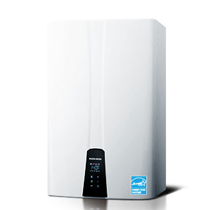 Gas hot water heaters are efficient and effective. You now have the choice of traditional or tankless hot water systems. We would like to provide you with some information to help in the decision making process of your new water heater system.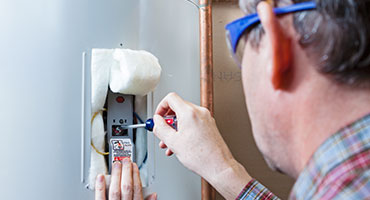 Condensing tankless water heaters are compact heating units that provide hot water as it is needed, and do no store hot water like traditional tank-type water heaters. When a hot water tap is turned on, water enters the tankless water heater. A sensor detects the water flow, and activates an electric or gas heating device, which quickly raises the water temperature to a preset level. When water flow stops, the heating element shuts off. Thermostatically-controlled tankless water heaters vary their output temperature according to water flow rate and inlet water temperature.
Enjoy up to 40% energy savings, endless hot water, and significant space savings.
Tankless Water Heater Tune-ups
We service virtually brands of gas fired tankless water heaters including Rinnai®, Navien, Bosch, Noritz, Rudd, A.O. Smith, and Takagi. The steps required for system maintenance vary a bit based on the type and age of your equipment, and its prior condition. However, these are the typical steps we take on a tankless tune-up visit:
Annual service (or more frequently if water conditions required)
Pre-service inspection. Documentation of any concerns of conditions that might require correction.
Flush the tankless water heater to remove sediment and calcium from the heat exchanger if required.
Remove and clean the inlet water filter.
Remove the unit's cover and inspect the inside if the cabinet for debris or evidence of environmental or mechanical problems.
Inspect the flame sensor and clean if necessary.
Inspect the T & P valve.
Carefully Inspect the venting system and vent termination. Ensure that the venting is secure and properly support, pitched correctly, and properly sealed.
If appropriate, inspect and clean the condensing water drain system.
Inspect the DHW expansion tank (if present) and any recirculation system hardware.
If appropriate (for both Rinnai and Navien models), view service reports and any error code history.
Test fire the system, and verify accurate water temperature delivery at primary points of use.
Completely clean our work area.
Prepare a tune-up report including the services provided, and any significant issues encountered.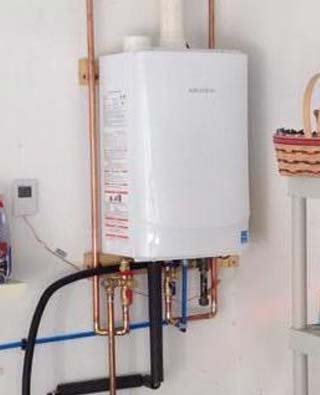 There will always be hot water. Endless hot water - for bathing, cooking, dishes, laundry, and all the other countless ways hot water enriches our lives.
---